Experience The TAO Clean Difference
Lab-proven to eliminate 99.9% of harmful bacteria
TAO Clean, short for "The Art Of Clean," is a lifestyle concept guiding us to live cleanly in mind, body, and spirit and encourages us to understand and appreciate the connection between art and design.
Our philosophy of clean does not stop at the care our devices give you, they continue on to the care of the devices themselves. Effectively giving you a fresh cleanse every use and increasing the longevity of the devices. In addition, removing harmful bacteria before it grows keeps you healthier and more radiant than cleansing with dirty brushes. Read below to find out more about the TAO Clean difference and the cleansing capabilities of our Germ Shield and Germ Shield+ devices.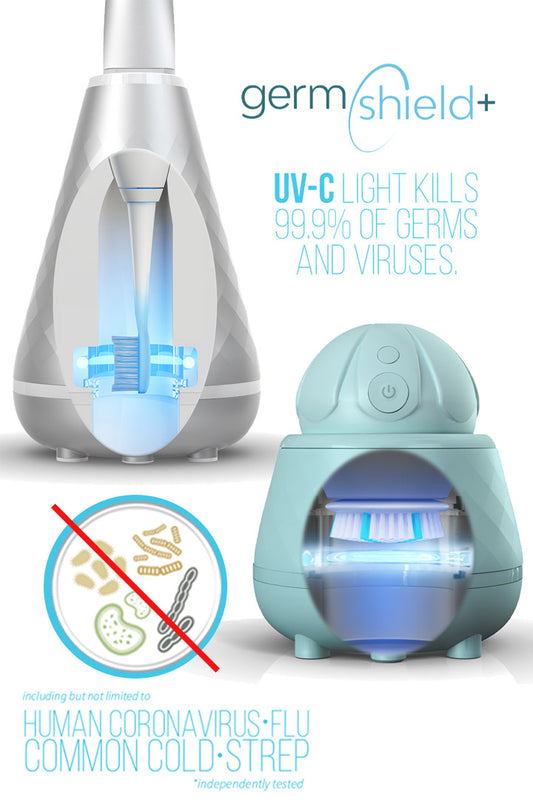 Germ Shield+
Increasing the UV-C intensity and exposure, our Germ Shield+ technology delivers the maximum level of sanitization. Germ Shield+ is incorporated into the charging station for our plug powered collection of electronic personal devices. A stronger power source allows for longer UV-C light cycles, intensified light rays, and a 360 degree halo of light to cover more surface area of your brush head allowing for maximum sterilization.
With intensified UV-C light rays and coverage for our plug powered electronic devices, the Germ Shield+ technology, in addition to standard Germ Shield technology, eliminates 99.9% of the following microorganisms (specific pathogens will vary by product): 
• HUMAN CORONAVIRUS, STRAIN 229E
• RHINOVIRUS 37
• INFLUENZA A (H1N1)
• STREPTOCOCCUS PYOGENES 
• STREPTOCOCCUS PNEUMONIAE 
Shop Germ Shield+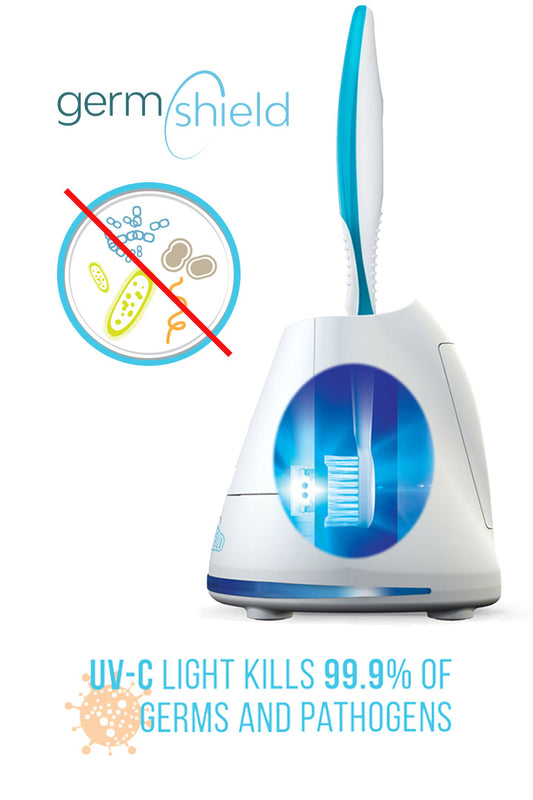 Germ Shield
TAO Clean Germ Shield combines technology and design to deliver unparalleled UV-C light sanitization - effectively eliminating bacteria, viruses, and other harmful pathogens from personal care devices. The Germ Shield's direct beam of UV-C light is lab-tested and proven to effectively eliminate harmful bacteria from growing on the brush heads and bristles of personal care devices.
Standard Germ Shield is included with our battery-powered personal care devices and has been shown to successfully eradicate 99.9% of the following microorganisms and will vary by product: 
• STAPHYLOCOCCUS AUREUS
• ENTEROCOCCUS HIRAE
• PSEUDOMONAS AERUGINOSA
• ESCHERICHIA COLI 
• SALMONELLA
Shop Germ Shield